"Cedarhaven" House for Sale
    Selling my home in rural Brattleboro area.
Cedarhaven was originally built as a log cabin in the 1950s, but has been expanded and modernized 3 times since then. Now it forms a unique rural environment located near Brattleboro. It combines a log cabin feel, with most modern conveniences.
Asking
$290,000 with 10 acres of woodland
$250,000 with 5 acres
Highlights:
8 miles from Marlboro College campus.;
8 miles from downtown Brattleboro
1/4 mile from Sunset Lake
Excellent location for walking/hiking, running, cross country skiing, snowshoeing

3 BR, 1 bath, living room, sunroom/dining room, kitchen, laundry room (1400 sq. ft. total)
bathroom and kitchen remodeled recently (soapstone counters, custom cabinets, stone floors, oversized shower)
washer, dryer, dishwasher
skylights, and many windows
woodstove and fireplace,
all natural wood interior (legacy of its origin as a log cabin)
detached garage, workshop and shed (perhaps 400 square feet additional)
satellite internet access to be upgraded this year
painted last fall

full view of Mt Monadnock
deck with hot-tub
private (set on 10 acres of woods; 100 yards from road)

Contact
The house was initially built around 1950 as a log cabin. But expanded 3 times between then and 2004. Now combines its rustic feel with all modern conveniences:
dishwasher
garage door opener
washer & dryer
stove, refrigerator
garbage disposal
built in microwave
radiant bathroom heat
many large thermopane windows
skylights
unique oversized shower
outdoor speakers on deck
outbuilding suitable for studio
gas baseboard heat

soapstone counters
custom solid wood cabinets
solid wood (log cabin) walls
(deep) well water
historically named "Cedarhaven"
protected from sight on all sides
The house is currently furnished in antiques. Sale of antiques garden tools etc. is negotiable.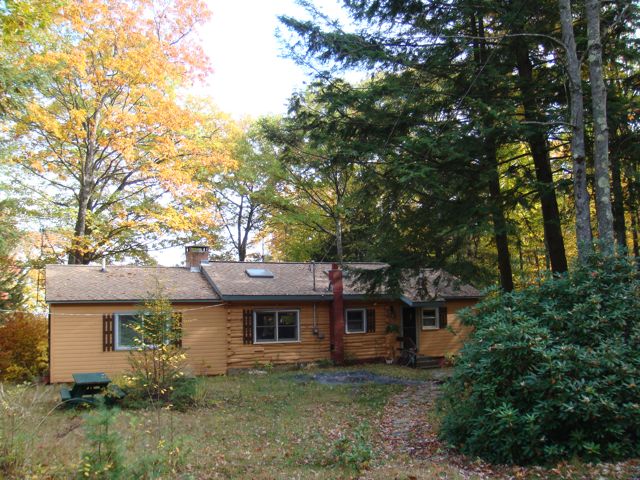 Morning view east from dining area: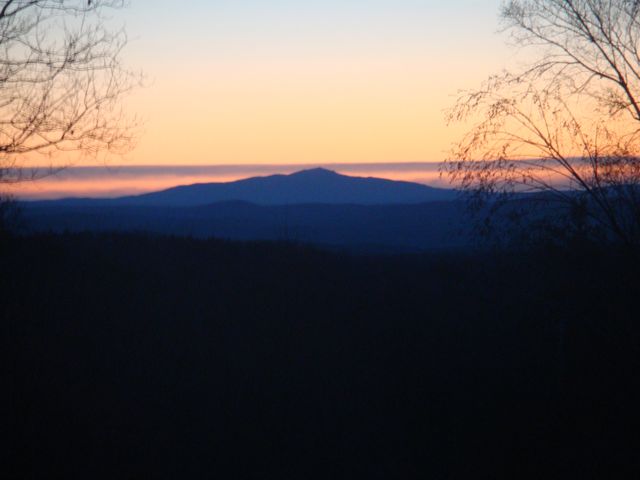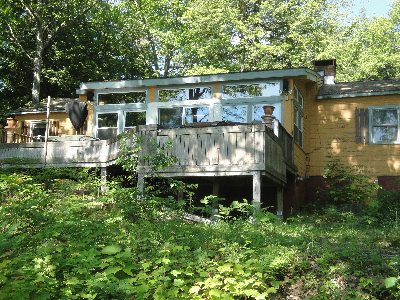 Master bedroom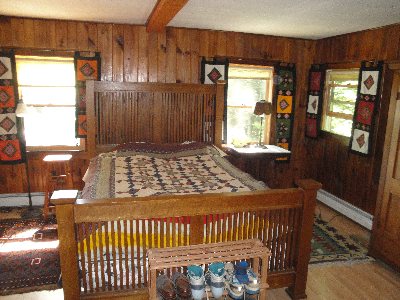 Deck and hot-tub in winter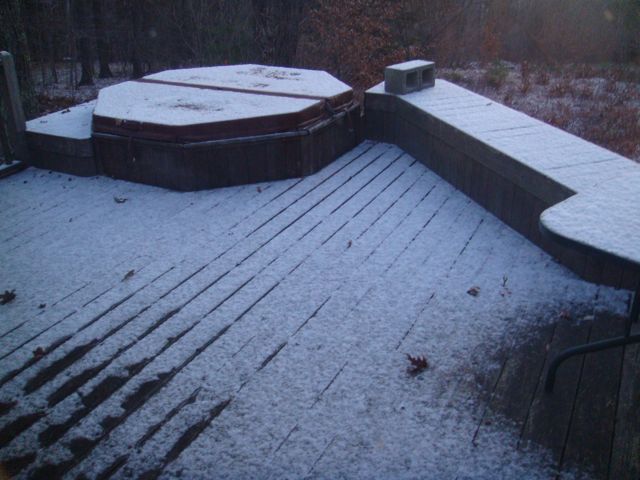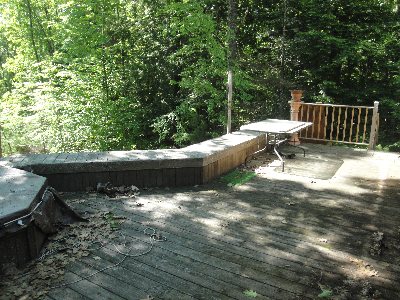 Dining area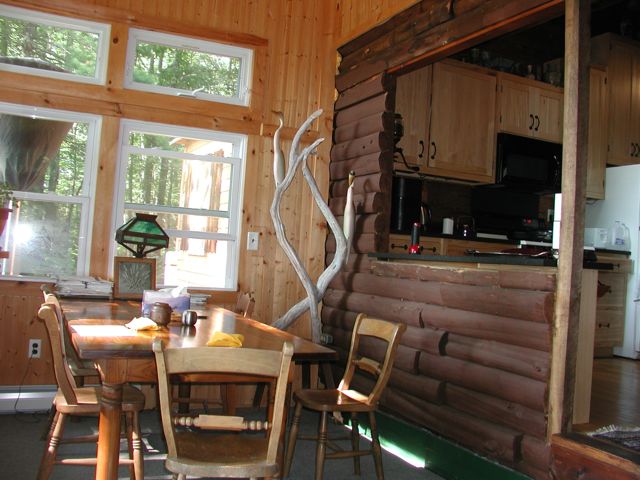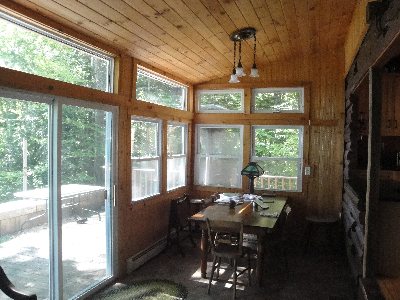 Living room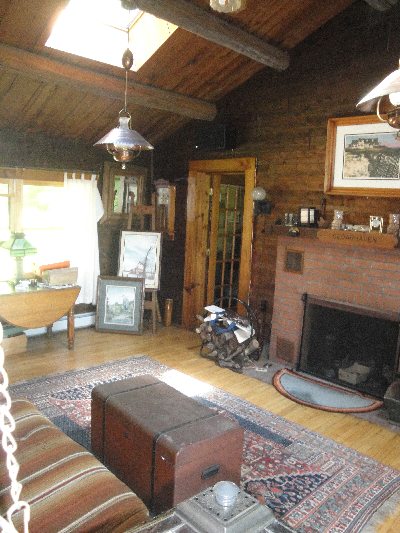 Guestroom/TV room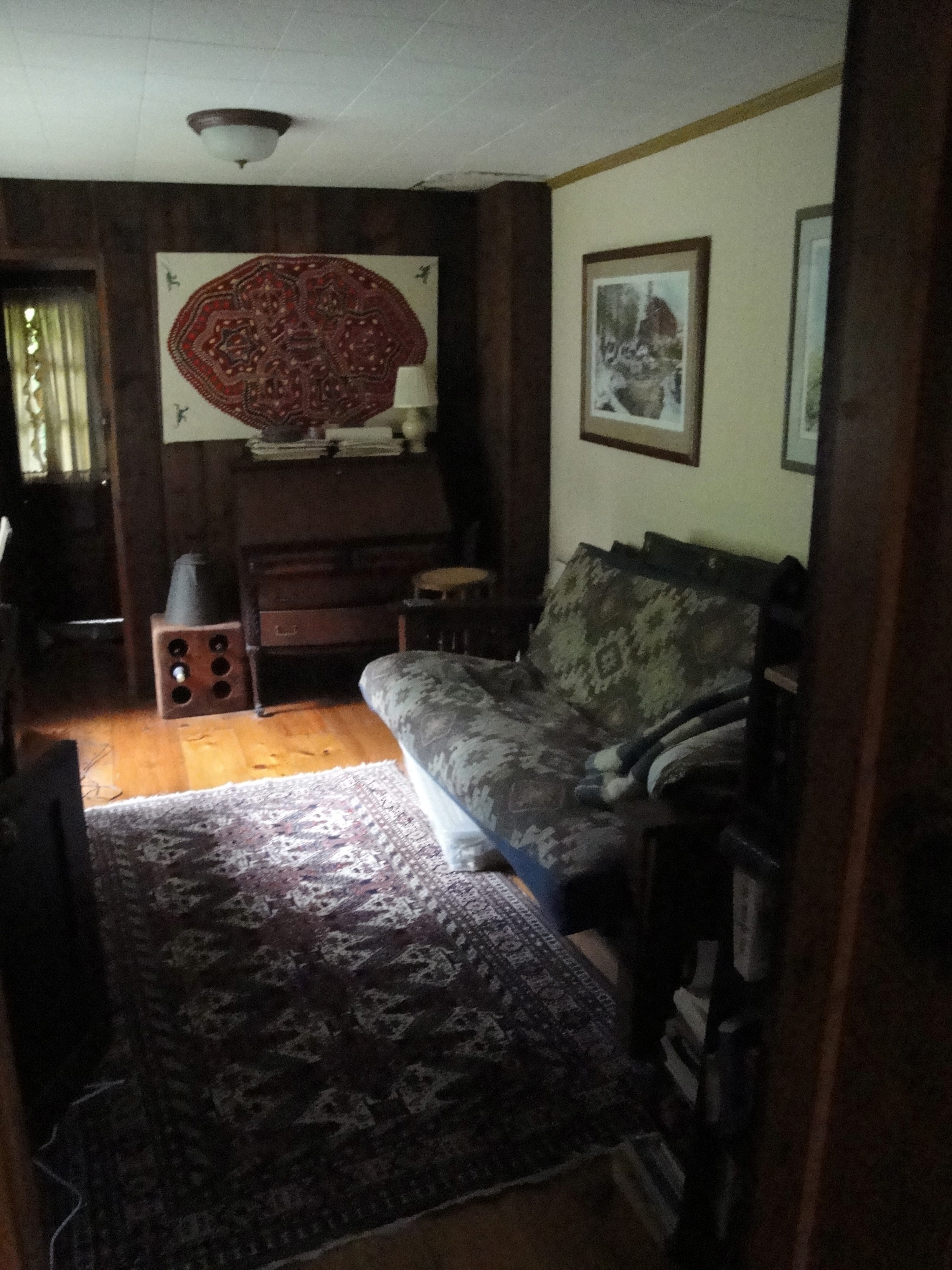 Kitchen, toward dining area
Soapstone counters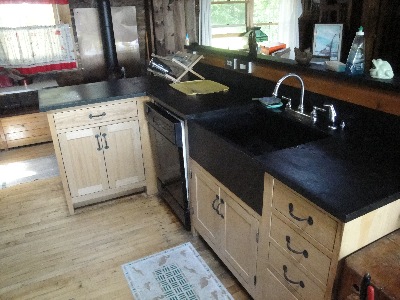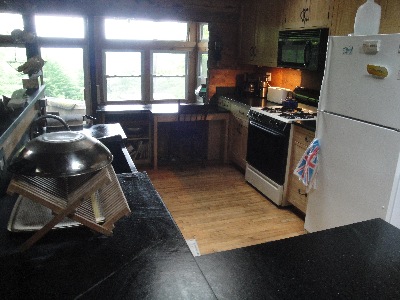 Stone floor in entry (and bath)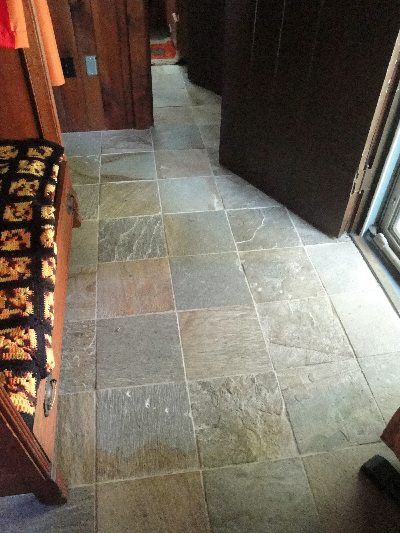 Studio outbuilding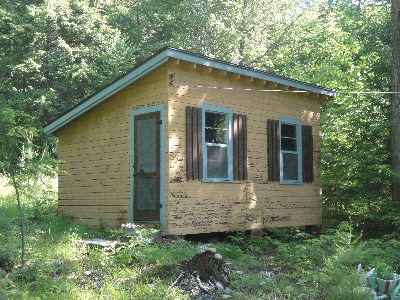 Location
View Larger Map